Description
Post WWII Los Angeles. In the dead of night you enter Fulton's, a clip joint hidden in the murk of down town. Take your seat and stash your heat; your drink is on its way. Smoke curls along the crown moulding and lingers in the air. What little light there is tingles through the vapours as a femme fatale appears between the shadows. She'll be by soon. Get cosy, you're in for the night – it's either that or put up a fight. In a few hours your boys will join you. For now, a deck of cards from inside your coat is tossed on the table and your fedora set aside. As broads sit and sip, gents go for the grift. Are you in?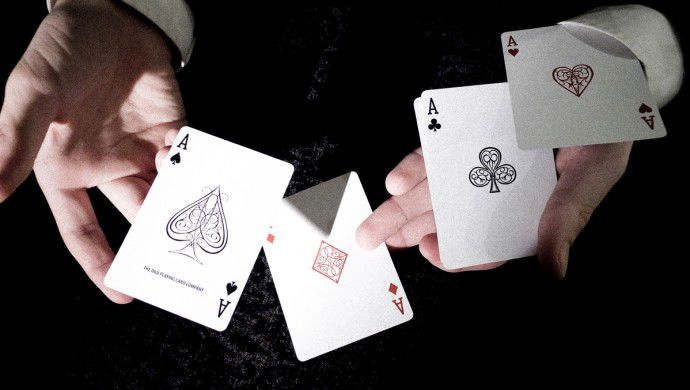 Fulton's Clip Joint Playing Cards celebrate our fascination with cinema, history, and the art of the grift. Taking inspiration from vintage Los Angeles and Film Noir, Fulton's captures a time and place where men were men, women were dames, and the next deal could be your last.
These limited edition playing cards feature original artwork by Dan Phillips and are beautifully encased in a linen box with embossed ornaments and foil stamping.


See the video.

Bil – These cards are simply beautiful. They are simple and elegant at the same time. The stock has a linen-like effect and a nice finish with smooth edges. The handling is fantastic.
The box design follows the pattern of simplicity and elegance. Mine were assembled a bit askew which harkens back to a time of hand-assembled products. The box has a rough, matte finish with is in keeping with the overall feel of the product. A slick, glossy box would have spoiled the mood for sure.